The OmniColor Fountain was a giant fountain located at the center of the Seven Realms (inside the Entryway Pavilion) from 1987 until OmniPark's closing in 2003.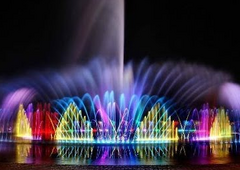 It put on a colorful musical show every hour on the hour, from 9:00 am to the park's general-admission closing at 9:00 pm (and sometimes during special members-only events, such as nighttime parties during summer hours). The exact show schedule changed as OmniPark's attendance grew over the years, but its best-attended show was the one at sunset.
History
The central area of OmniPark was originally home to The Realm Between the Realms, an exclusive VIP area where Dalton Teague would entertain corporate sponsors and other elite guests.
Throughout the 1980s, OmniPark's managerial board pushed for this central Realm to be replaced with a commercial attraction -- and in 1982, long-time Technosopher Elijah Shattuck received board approval to spearhead construction on a ride he'd storyboarded with the help of frequent collaborators Denise Olivetti and Yamasato Masaru.
This ride was the ill-fated Wild World of Life, whose construction was completed in May 1985. The attraction ran for only a single season before it was shut down due to widespread guest complaints of nausea, as well as parent protests that the ride's themes were inappropriate for children.
OmniPark management not only bulldozed Wild World, but removed all mention of the ride from maps and guidebooks printed from autumn 1986 onward -- effectively erasing all evidence of the poorly reviewed attraction.
By spring of 1987, the OmniColor Fountain had been constructed on the vacant spot, and it remained active until OmniPark's official closure in 2003.